Paris never sleeps.
Especially not at night.
Niki Club open from 9pm to 6am 7/7
The Niki Club is open from 9pm til 6am, every day, in Paris Bastille.
Looking for a cocktail bar with an amazing DJ all night long ?
Come and try our shots and other cocktails at 10 rue de Lappe !
Happy Hour every evening from 9pm to 10pm !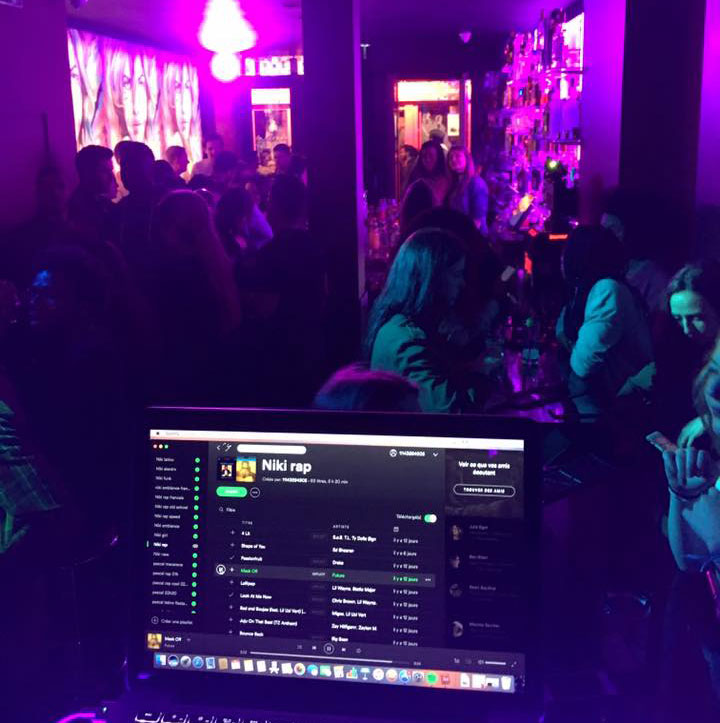 PORTOFLIO
---
The bar was designed by Vanessa Brajzblat architect at Elivan Architecture.
What our clients say
---
4.9 / 5
from 75 Facebook reviews
4 étoiles
from 167 Google reviews
Sébastien B.
(Local Guide)

Great atmosphere at the Niki Club ! the DJ is good and plays good African, Latino and Dancehall music. The staff are great too! You must try it!

Pauline B.

Staff, cocktails and atmosphere: perfect! The manager and the whole team really take care of their clients and are concerned about the security of their customers. Great atmosphere until the early hours. We'll be back !

Hanane H.

Welcoming staff and amazing atmosphere ! ❤

Diane B.

From the more than adorable bartenders, delicious cocktails and a very warm atmosphere, it seems like we have the best bar on the street !

Babs

Brilliant, nothing to add… great place no regrets, the barman is amazing does a really good job the boss is cool i'll be back don't change anything !

Julien P.

Great place to visit on rue de Lappe ! great barmen great music with amazing cocktails with really original names

Damien L.

Brilliant team, you never get bored there! Carry on like that!

Antiochos H.
(Local Guide)

Nice place with good atmosphere

Maï C.
(Local Guide)

Great atmosphere

Access
---
Niki Club
10 rue de Lappe
75011 Paris
01 48 06 52 67

Open everyday from 9pm til 6am
Métro : Bastille (1 - 5 - 8)
Bus : 69 76 86
Parking : Opéra Bastille - Ledru-Rollin
Your message has been sent. Thank you!